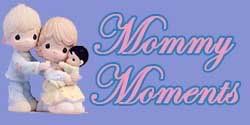 It's Friday once again, and time for Mommy Moments hosted by
Chris
. This week mommy moments theme is "Name Game" suggested by
Genebie
. Here are the latest picture of Jake and Justine and the story or meaning behind their names.
Jake
Before we got married, we already picked names for our kids. Our first choice was Josh or Jake if it was a boy and Alexandra if it was a girl. It's a long story though why we name him Jake, Well, I like the name Jake since I was single so I insisted to name our first born Jake. And of course we wanted to have our childrens name to start with letter "J" just like my husband's first letter name. We looked at the meaning of the
Names
online and t'was a nice name and we like it. Both their middle name came from my Family name or maiden name Requieron.
The name
Jake
means Diminutive of Jacob; He grasps the heel; Supplanter. Origin of the name; Hebrew and English.
Justine
Since the name Alexandra is kind of long, so we thought of other name and look online. There we found the name Justin for the boys which means Righteous, just, fair. So we added "e" at the end of the name to make it sound and look like girl name.
Justine
is an English name means; Just upright, Feminine of Justin.
In Latin America, the name
Justine
means fairness.
Meaning of our names:
My husband's name is
Joseph
. He was name after his late grandfathers name. In biblical, the name means God will increase. In Hebrew, the name Joseph means; May Jehovah add/ give increase. St. Joseph of Arimathea undertook the burial of Jesus (in Holy Grail love). In the bible Joseph was sold by his brother into slavery and later rose to become a supreme power in Egypt. Also jesus legal father.
My name is
Sheila
which I don't like it before coz its too girl...ish. From what I learned before the name Sheila means Blind.
In Irish, the name Sheila means from the name Cecilia. The name Sheila originated as an Irish name.
Join
and share your story.

FC