This is a Sponsored post written by me on behalf of White Cloud for SocialSpark. All opinions are 100% mine.
What brand of tissue paper do you use at home?  Well, if you and your family are using White Cloud tissue perhaps you will find this White Cloud Store Locator helpful in finding a store in your area that carry this product brand.  In case you do not know, White Cloud Facial Tissue is only available in select markets and the White Cloud brand is carried exclusively at Walmart.  Make sure you buy the Limited-edition boxes of White Cloud to show your support to Children's Miracle Network Hospitals who created this new facial tissue box designs.  Not only your are helping hospitalized kids everywhere, you also make a big difference.  

Give your family a little extra comfort by using a quality products made from the softness of clouds.  Our kids and all members in the family deserves only the best.  Use White Cloud products from bath tissue to paper towel as it is money saving and provide pure comfort, cloud-like softness and high-quality performance.  White Cloud tissue is soft and comfortable, it's gentle on your face and on your budget plus it is eco-friendly White Cloud Green Earth products.  If you are using a different brand of tissue then you might want to consider switching to a better brand like White Cloud and discover the softness for yourself.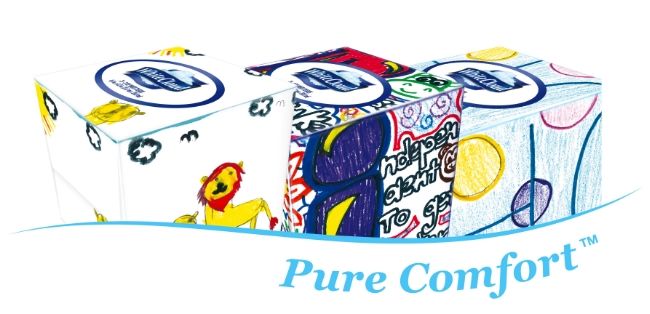 Do you know that the new box of White Cloud products are designed by special kids?  Well, be amaze of the interesting story behind the new box designs of White Cloud Tissue.  That bright colors, polka dots, sunshine and lions were imagined and illustrated by three talented kids at Children's Miracle Network Hospitals®.  White Cloud teamed up with CMN Hospitals in January and asked the kids receiving treatment there to design the new White Cloud Facial Tissue boxes.  The top 10 submissions were posted to the White Cloud Facebook Page where fans had the opportunity to vote for their favorite design.

The three designs that received the most votes are coming to life on White Cloud Facial Tissue boxes, available in a select number of Walmart stores next month. The tissue boxes actually became available beginning May 24, so visit Walmart store near you and stock up your own boxes of White Cloud tissue.   White Cloud will also make a $15,000 donation to each of the winning artist's hospitals.  I encourage you all to connect by following White Cloud Twitter Page and the White Cloud Pinterest Page to be on the know of their latest promotion and get live updates from the event!  Make sure you like their Facebook page and be on the lookout for the $0.75 off coupon in July's All You magazine.