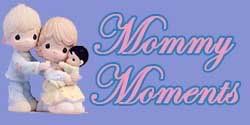 It's mommy moments time again and here are the people that are part of our family. We don't have picture with Jake's aunts in both sides and some of his cousins but they are part of our family.
Jake with his Granma Mary in Slippery Rock. She is always there for us, helping us with our needs and give us good advices and of course stuff and gifts hehehehe.
Jake with his cousin Jacob from Chicago, they are buddies. Jacob sent Jake a post card when they went to Montana for vacation last May. And we look forward to see them again next week.
These are Jake's cousins, Lilian and Henry from New York. They gave to Jake most of their toys and books. They also buy Jake gifts every time they come up here in Pittsburgh. Tomorrw we are going to visit them in Slippery Rock, they are here for 2 weeks vacation at their Grandma Mary's house.
Jake with his uncle Nathan and cousin Lilian. This picture was taken last summer at Slippery Rock.
The last but not the least, Jake's aunt Rachael, my sister and the only family I had here in the US. But sad to say, I can't always count on her when I need her help. When I gave birth to Justine, I asked her to come up here and help me watch Jake while I'm at the hospital. She promised us to help watch Jake, I don't know what got into her mind why at the moment I needed her and she wasn't there. I was disappointed with my own family(sister), because she only visited us when its convenient to her or when she gets bored I guess with her life. Well, with all that she still part of my family, time heals all wounds so I guess someday I can forgive and forget everything.

FC