I documented Jake's milestones since pregnancy, birth to toddlerhood. And when Justine came I tried to document both their milestones and even created a blog for them. Anyhow, potty training is one of the important milestones in a toddlers life. I have read different articles that our pediatrician handed over to us during Jake's two year old visit. I also read article online and in toddlers book that are helpful in the potty training process. I sort of oversee the lines that said "Wait for the right time" to start potty train your toddler.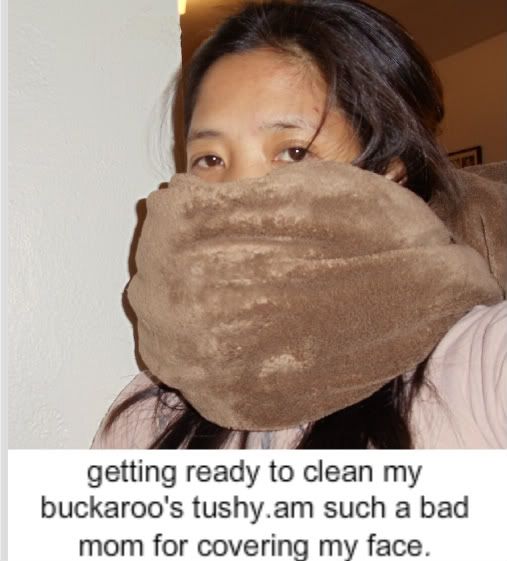 I was in a rush I think that wanted the train to come by as soon as possible. The month before Jake turned three years old i let him sit in the potty and thought why not start potty training him. So, I did. At first I did not see it as stressful as it should be because i'm just preparing Jake for the potty training. But when I see that little progress, i got persuasive and believed that he can be potty trained before he turn three. I was just dreaming and assuming things that never happened. Right after Jake's 3rd birthday and Jake was wearing brief as part of potty training him, (because he likes wearing thomas underwear) he pooped in that underwear and I was so pissed. We call Jake a baby by the book because when it's time to change he just do it voluntarily. Just like when baby's time to craw, walk and more, Jake did that in the right time at his own pace. All that pooping in the potty he did was just part of his plan to get a hold of the little trains as rewards. H stopped pooping in the potty in a regular basis.
Came June, we moved in to a new house and there are three bathrooms in our house. The wooden floor was a bonus that makes the potty training i guess i bit convenient and easy if in case he peed on the floor. Justine was almost two years old when I let her sit in the potty. The first and second try was a success. She pooped quick and so natural but Jake did not.
He refused to sit in the potty since we moved. He didn't want to poop in the pooty and chose to pooped in the diaper only. Every time I put him on the potty, he controlled himself not to poop in it and as soon as i put a new and clean diaper on, poof!! There's the yucky poop. He slept while he was on the potty, he done lots of stupid stuffs and more. I knew that he was ready around that time (June-July) because he sometimes snuck out to changed his diaper. So, what I did was I pinched his butt every time I changed his dirty diaper. At first he just reacted so cool and not minding the pain. I kept doing it all the time that he can't take the pain anymore. He even reported me to his Daddy that mommy has been pinching his tushy but that's my way of pushing him to do his doodie business in the potty not in the diaper. It was sick but hey it works. The rewards did not worked on him anymore but the pinch did. I felt bad every time I pinched his tush but I had to do it because he needed a push.
It was around September i think when he started pooping in the potty and before we knew it he was good at it. He ran to the bathroom if he feel like going and called us to clean his bottom. I was surprise and very proud of him during our trip to Chicago that he pooped and peed in a public restroom. That was amazing. Right there and then we knew that we succeeded the potty training struggles and journey. I forced him to stop wearing diaper by the end of November.
This is one important milestones in Jake's life and the best thing that happened to his toddlerhood in 2011. He is been wearing underwear everyday and in bed at night time. He can do his number 1 and 2 business like a regular human being. This 2012 I wish Justine will follow. That would be awesome!